Customer Rating:
Based on 8 Reviews
Product Description
Our veneer scraper is designed for use on paper-backed veneer when it's bonded to a substrate with contact cement or Flex-Pro™ adhesive. It is also required when applying PSA backed veneers. This tool doesn't look like much but it works wonders. It uses a simple but powerful concept in which the leverage of hand and arm force concentrates pressure at the tip of the tool to create a durable bond. It creates a stronger bond than an ordinary roller.
This scraper is cheap but what it does is priceless!
Each scraper handle is made from A-grade hard maple or beech and the blade is made with a double reversible non-marring plastic with beveled edges and softened corners... a VeneerSupplies.com exclusive!
Begin at the center of the veneer and work toward the edges in the sequence shown below. This method will prevent bubbles in the veneer and create an excellent bond. Start in the center and drag the scraper tool in the direction of the arrows as shown below. Be sure to pass the tool over each inch of the veneer to get the best possible bond.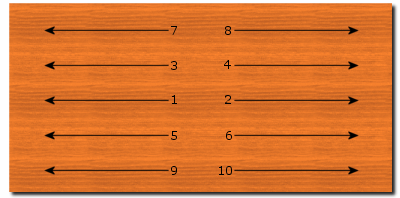 Why is the "blade" of the scraper not made from vulcanized fiber core?
I'm not sure why so many other scrapers use a material like that for the scraper blade. Our scraper uses HDPE (a low friction plastic) which is much easier to slide across the veneer surface. A tool that is easier to slide is inherently easier to press down upon - which gives you a better bond.
Product Reviews
Aids in Peel and Stick Application

Review by Lee. Brown
Rating:

Simple but does what it is designed to do. Does not damage the veneer and allows ample pressure to stick the veneer to the substrate. Right tool for the right job.

---

Replacement Blades Would Be Nice

Review by Michael Miller
Rating:

Works just fine for PSA backed veneer. Only wish they sold replacement blades. I have already worn one side down and am working on the second edge. Obviously the handle does not wear out. The blade is reversible. I do install a lot of PSA backed veneer, so this tool gets a lot of use.

[Note from Joe: You can remove the blade from the handle and cut a new edge on the plastic. It's an easy fix.]

---

Used Scraper on Stereo Veneer

Review by Thom Walker
Rating:

Bought one to apply paper backed veneer on a set of custom stereo speakers. Works great!


---

Review from Arbtus, MD

Review by John Midkiff
Rating:

I had a veneer project that needed to be done and am a total rookie woodworker. Looking around for veneer scrapers I saw several that were reviewed poorly for breaking under pressure or leaving marks in the veneer. I wound up ordering the one from these guys and it performed brilliantly. Held up under severe pressure and never once left even the slightest mark on the thin veneer. Add quick shipping and a follow-up email to make sure I was happy with the product, and this equals something (and someone) I have no problem recommending. Thanks Joe!

---

Review from Seattle, WA

Review by Terry Stipe
Rating:

Great tool! Well-made and shipped lightning fast.

---

Review from Yankton, SD

Review by Jerry Anderson
Rating:

Scraper is of a good solid build and the nylon head glides over your veneer's without damaging your project. A good buy and a nice tool to add to your wood working tool box. Item was shipped quick and packed well.

---

This is Much Better.

Review by Raymond Miller
Rating:

This website recommends a scraper tool for pushing or setting veneer into contact cement and I agree that it is completely necessary if you want the project to last. I forgot to order the scraper with the veneer I bought here and had to pick one up from another website (because I had to order some drawer knobs anyhow). To make it short, their scraper had jagged edges and a poorly machined handle that could have given me splinters. It was disappointing that their website showed a very nicely made tool but the actual product was far less impressive. If I had used their scraper, my veneer would have been scratched and ruined.

I emailed a picture of that scraper to Joe (the owner of this website) and he promptly replied with a temporary solution that allowed me to get my project done. After that, I return the scraper to [edited out by Joe] and got a refund.

It was a week later that I needed more veneer for another project and decided to order it and the scraper from veneersupplies.com. I'm only writing a review of this scraper because of the outstanding service that is offered here and the quality of the items.

As always, my veneer arrived quickly. The scraper arrived separate from the veneer and it is excellent compared to the other one. The edges are smoothed and the handle is sanded and well-shaped. It's a simple tool but it works wonders. And now I know I can trust that this company has quality stuff and great customer service. This is now my only source for veneering items.

---

Must Have Item

Review by Terry H.
Rating:

This is a must have item if you are using a pressure sensitive adhesive veneer or contact cement. I've learned the hard way that a roller will not work. I destroyed a $400 panel because I thought a roller would be enough. After the veneer bubbled up, I had to start over. On the second try, I used the same veneer type and substrate but this time I was smart enough to follow Joe's suggestion and use the scraper. Big difference! No problems at all now.

Considering that this scraper is so affordable, it would be a mistake not to order it. The shipping time from Joe was only two days and the cost was reasonable. I have no complaints at all about this company. Everything is so well done!

---