This 12-piece builder's kit is for anyone with a vacuum pump that would like to build a continuously running system. Since this kit is used to build a non-cycling system the check valve, vacuum switch and vacuum reservoirs are not required.
The system is designed for woodworkers looking for a simple and affordable method of veneering wood panels. With an integrated speed control valve, the system is fully adjustable from 840 to 1750 lbs of pressure per square foot.
The only additional items you'll need only are a vacuum pump (with 1/4" threads), vacuum bag, and breather mesh.
Kit Instructions: PDF Download
---
Kit Contents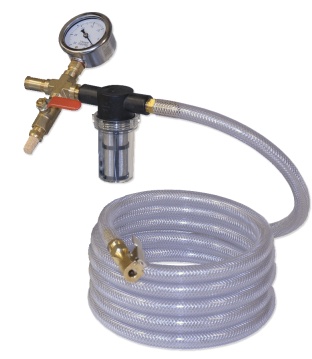 10' Heavy Duty Braided Vacuum Tube
1 Lock-On Vacuum Connector (new version)
1 Roll of Thread Sealing Tape
1 High-Flow Vacuum Air Filter
1 Stainless Steel Vacuum Gauge
1 Brass "X" (Cross) Fitting
1 Brass Close Nipple Fitting
1 Bleeder Fitting
1 Vacuum Valve
1 Brass Pipe (2")
1 Brass Barb Fitting (1/8" NPT to 3/8" barb)
1 Brass Barb Fitting (1/4" NPT to 3/8" barb)
1 Set of Printed Instructions
WARNING: This product can expose you to chemicals, including lead, which are known to the state of California to cause cancer and birth defects or other reproductive harm. For more information visit www.P65Warnings.ca.gov.
---
Vacuum Clamping Option
Podz™ Kit (26 Piece Kit + Foot Pedal)
Podz™ are simple vacuum jigs designed to affordably clamp projects to your bench top. Using the power of your vacuum press and vacuum clamping add-on, the Podz 26-piece kit allows you to configure the clamping jigs any way you choose to clamp projects as small as 4" x 4" and as large as 5' x 4'. The Podz kit includes the following items:
Podz Pre-Drilled Jigs - 4" x 4" HDPE (4 pcs.)
Mach Valves (4 pcs.)
Brass Plug - 1/8" NPT
Blue Vacuum Tube (12 ft.)
Brass Barb Fittings (7 pcs.)
Removable Podz Gaskets (8 pcs.)
Attachment Fitting
Electric Foot Switch