Customer Rating:
Based on 7 Reviews
Product Description
This 12-piece builder's kit is for anyone with a vacuum pump that would like to build a continuously running system. Since this kit is used to build a non-cycling system the check valve, vacuum switch and vacuum reservoirs are not required.
The system is designed for woodworkers looking for a simple and affordable method of veneering wood panels. With an integrated speed control valve, the system is fully adjustable from 840 to 1750 lbs of pressure per square foot.
The only additional items you'll need only are a vacuum pump (with 1/4" threads), vacuum bag, and breather mesh.
Kit Instructions: PDF Download
---
Kit Contents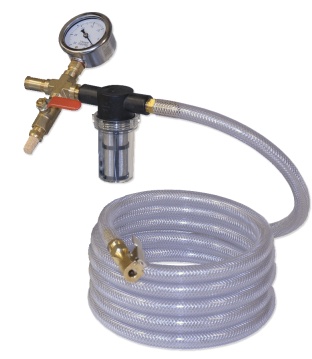 10' Heavy Duty Braided Vacuum Tube
1 Lock-On Vacuum Connector (new version)
1 Roll of Thread Sealing Tape
1 High-Flow Vacuum Air Filter
1 Vacuum Gauge
1 Brass "X" (Cross) Fitting
1 Brass Close Nipple Fitting
1 Bleeder Fitting
1 Vacuum Valve
1 Brass Pipe (2")
1 Brass Barb Fitting (1/8" NPT to 3/8" barb)
1 Brass Barb Fitting (1/4" NPT to 3/8" barb)
1 Set of Printed Instructions
WARNING: This product can expose you to chemicals, including lead, which are known to the state of California to cause cancer and birth defects or other reproductive harm. For more information visit www.P65Warnings.ca.gov.
---
Vacuum Clamping Option
Podz™ Kit (26 Piece Kit + Foot Pedal)
Podz™ are simple vacuum jigs designed to affordably clamp projects to your bench top. Using the power of your vacuum press and vacuum clamping add-on, the Podz 26-piece kit allows you to configure the clamping jigs any way you choose to clamp projects as small as 4" x 4" and as large as 5' x 4'. The Podz kit includes the following items:
Podz Pre-Drilled Jigs - 4" x 4" HDPE (4 pcs.)
Mach Valves (4 pcs.)
Brass Plug - 1/8" NPT
Blue Vacuum Tube (12 ft.)
Brass Barb Fittings (7 pcs.)
Removable Podz Gaskets (8 pcs.)
Attachment Fitting
Electric Foot Switch


Does this kit include a muffler for the exhaust port on my pump?
We include one muffler fitting in the CRS kit but it is used as a bleeder in the manifold assembly to control maximum vacuum on the project. You can order a separate muffler if your pump does not have one.
What is the purpose of the vacuum valve?
It allows the user to fine tune the vacuum level in the system and vacuum bag. Additionally, the vacuum valve allows the user to completely close off flow to the bleeder fitting so the pump can draw a faster initial vacuum on the bag.
Product Reviews
Good Kit

Review by Rick Watkins
Rating:

Ordered several items from Veneer Supplies, including this pump kit. Everything arrived promptly and well packaged. The kit was complete and easily assembled. Web site is absolutely outstanding and Joe responds very quickly. I will recommend Veneer Supplies to my fellow woodworkers with no reservations. Thanks Joe!

---

Complete Kit Saved Time & Money

Review by Joe Polich
Rating:

This kit provides everything you need to hook your bag up to your pump. I had tried to price all the pieces locally but gave up trying to match everything at one place. The kit was definitely cheaper than individual pieces plus the quality is outstanding!

The kit, pump and bag closure arrived earlier than expected and was packed extremely well.

---

Review from Middleton, ID

Review by Dan Wahlquist
Rating:

I bought this for a vacuum clamping system that I'm building for my CNC router. It's a learn-as-I-go situation. Everything about this is impressively high quality; the parts, the ideas, the instructions, the website and the users builds. Much easier to get the kit than source the parts individually and cheaper too.

---

Review from Baltimore, MD

Review by David Utzschneider
Rating:

Great kit to get started and saves time from having to source all the pieces individually. Arrived fast as well.

---

Reveiw from San Diego CA

Review by Todd Partridge
Rating:

My experience with VeneerSupplies.com was excellent all the way around. The website is informative and comprehensive, and my email questions were answered most timely. The product was shipped and received in a matter of days. All arrived safely, all were present and accounted for and the packaging of the items was logical - no wondering if any of the parts were missing. All instructions were clear and everything worked as promised. I will definitely recommend VeneerSupplies.com.

---

Review from Mt. Vernon, IA

Review by Brian Nowak-Thompson
Rating:

Simple assembly in a few minutes and everything you need is included. The one suggestion would be to include a photo of either an exploded view or the completed setup in the written directions that come with the kit.

Note from Joe - I agree with Brian and there is now an image of the completed system in the instruction set.

---

I Highly Recommend The Breather Mesh

Review by Brad Strong
Rating:

I bought this kit (with the vacuum clamp option), a 2' x 6' bag, and a Rietschle Thomas 3.15 CFM pump. I ordered it in the afternoon. An hour later, I received an email from Joe saying it had shipped. It arrived the next day via UPS ground. I assembled the pump kit with no issues following the included instructions. It had everything needed for assembly including the Teflon tape for sealing the threads. I made a platen from 3/4" MDF I already had by cutting 1/4" deep groves every 2" in both directions and rounded the corners using a block plane and sand paper. I also used the breather mesh instead of a top platen (highly recommended).

I purchased the cold press glue, glue roller, and veneer tape as well. I followed the procedures outlined on Joe's web site, and my first veneer pressing project turned out great.

I had a couple of questions for things I didn't see on the web site, and Joe answered them via email within an hour or two and then added the answer to his web site for everyone to benefit from.

Excellent product, service and informative web site.

Thanks Joe

---