Product Description
Our two-ply veneer has a wood-on-wood construction utilizing a thin acrylic membrane that provides the ultimate protection against bubbling, glue seepage, and telegraphing. Two-ply veneer is one of the most cost-effective wood coverings for surfaces that are less than perfect or where exceptional stability is required. The image shown for this product is a representation of the veneer you will receive in your order. This is a product of nature so there will be variation from what is shown in color, grain, and figure.
Staining & Finishing
Since this veneer is a real wood product, it can be stained/dyed easily and requires no special top-coats or finishes. Aniline dyes, oil and water based stains, Transtints, polyurethane, lacquer, conversion varnish, shellac, and tung oil are all compatible with our 2-ply veneers.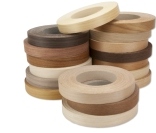 Matching Species Edge Banding
To help complete your panel, we offer a wide array of real wood edge banding to match many of our paper-backed veneers. These rolls are in stock and shipped same day if ordered before 12pm EST. Edge banding is very easy to apply and is offered in several sizes and types including pre-glued, non-glued, unfinished, and pre-finished.
Adhesive & Tool Suggestions
We highly recommend

Titan DX

™ for bonding cross grain backer two-ply veneer to plywood, MDF, and particle board.
Two-ply veneers with a parallel grain backer must be bonded with a hard setting adhesive such as Ultra-CAT™.
These veneers can also be adhered in a vacuum press with

Better Bond X-Press

™ adhesive.
A pressure sensitive adhesive (PSA) backing can be selected above. This "peel and stick" adhesive by 3M™ is applied at the factory and allows you to instantly bond the veneer to a project surface.
A

scraper tool

must be used to apply backed veneers with contact cement or PSA backing.
Many users find a

flush-cutting spiral router bit

to be the best tool for trimming a veneered panel.
---
More Information
PRODUCTION DELAYS
Our supplier of paper-backed and two-ply veneer is running behind schedule due to staffing shortages. Your order will ship within five to eight additional days beyond the standard production lead time shown below.
Two-ply wood veneer sheets are made from two layers of veneer. The face ply is the species listed at the top of this page. The backing layer is a stable and cost-effective wood species which is often ash or okoume. This combination of layers makes the sheet more rigid than paper-backed veneer and suitable for less-than-perfect substrate surfaces.
Lead Time:

Slip Match w/ Cross Backing


4 Business days
6 Business days with PSA option


Slip Match w/ Parallel Backing


4 Business days
6 Business days with PSA option






Book Match w/ Cross Backing


11 Business days
13 Business days with PSA option


Book Match w/ Parallel Backing


11 Business days
13 Business days with PSA option



Return Policy:

Veneers ordered with the PSA option are nonreturnable. All others accepted within 30 days and are subject to a 30% restocking fee.

Important Note:

Large sheets of rift oak veneer will always have some swing/curve in the grain known as "sweep". Please contact us if your project requires a riftsawn veneer with less sweep.
Width:
48" (measured across the grain)
Length:
96" (measured along the grain)

Thickness:

.035" +/-.005"

Grade:

When comparing our veneers to others, be sure to get the right grade for your project. Many sellers offer lower quality veneers at pricing that is comparable to ours. You have to decide if the project is worth a better veneer and if the seller offers the

first-class customer support

you deserve.

Transit Time:

These veneers are shipped from the manufacturer in Indiana.
Transit time is typically 1 to 4 days.

Packaging:

To keep shipping costs reasonable, these veneers are carefully rolled up and shipped in a corrugated box direct to you from the manufacturer.

Shipping:

No additional shipping costs will be charged for adding more than one sheet of this veneer to your order. In other words, the shipping cost is the same for one, five, ten, twenty, or more sheets.

Discounts:

Discounts are available on orders of 12 sheets or more of the same veneer. Please contact us for details.

Sample Books:

We now offer a

veneer sample book

containing 47 backed veneers (8" x 10") in a convenient binder with protective sleeves.

---

Two-Ply Veneer Options

Backer Direction:

Cross Grain

- The backer veneer is applied perpendicular to the face veneer. This option allows maximum rigidity and stability without risk of tearing. With this type, the glue line between the plies is more noticeable.

Parallel Grain

- The backer veneer grain is applied in the same direction as the face veneer. With this option, the veneer is more flexible along its length and can be more easily formed around curved projects.
Peel & Stick:
A pressure sensitive adhesive (PSA) backing can be selected above. This is 3M's #9505 "peel and stick" adhesive which is applied at the factory and allows you to instantly bond the veneer to a project surface. The PSA option is available but not recommended for the "Parallel Grain" option above.
Matching Option:
Select this option if you are ordering at least two sheets of this exact veneer and want each sheet to reasonably match the other in terms of color and grain. A matched "set" is generally limited to two sheets. There will be multiple sets for orders of more than 2 sheets.
The matching fee is non-refundable.
Lay Up Option:
This option is only available on standard-grade rift sawn oak veneers. For all others, the standard lay up method is book match.
Book matched veneers with a riftsawn grain can have a "barber pole" effect in which light reflects differently from every other piece of veneer in the layup. To minimize this effect, you can order these veneers in a slip match. In this case, each veneer is layed side by side without reversing every other veneer face.